Motorsports communications FAQ
The best type of radio for Motorsport is Digital Radio, using the FDMA method of transmission. Kenwood and Icom both use this system in their NXDN products. FDMA is a narrow band digital system that gives better rang and clarity ,due to its capability to reject electrical noise from racing cars.
DSP noise cancelling is an electronic filter that recognises mechanical and repetitive noise like engine gearbox and even wind noise. the filter cancels this out but as human voice is a continuously varying pitch, the filter does not affect the voice. DSP is essential with Digital Motorsport systems as any amount of noise transmitted with the voice becomes mixed with it and cannot be recovered when the message is received. This will result in a garbled unusable message.
Pit to car systems using Digital NXDN technology give the best all round results when used in Motorspots. Kenwood and Icom radio units use NXDN but must also use DSP noise cancelling to ensure the system can cope with the high noise from racing cars.
Autotel NX9000
and
Race 600D
fit most applications and budgets.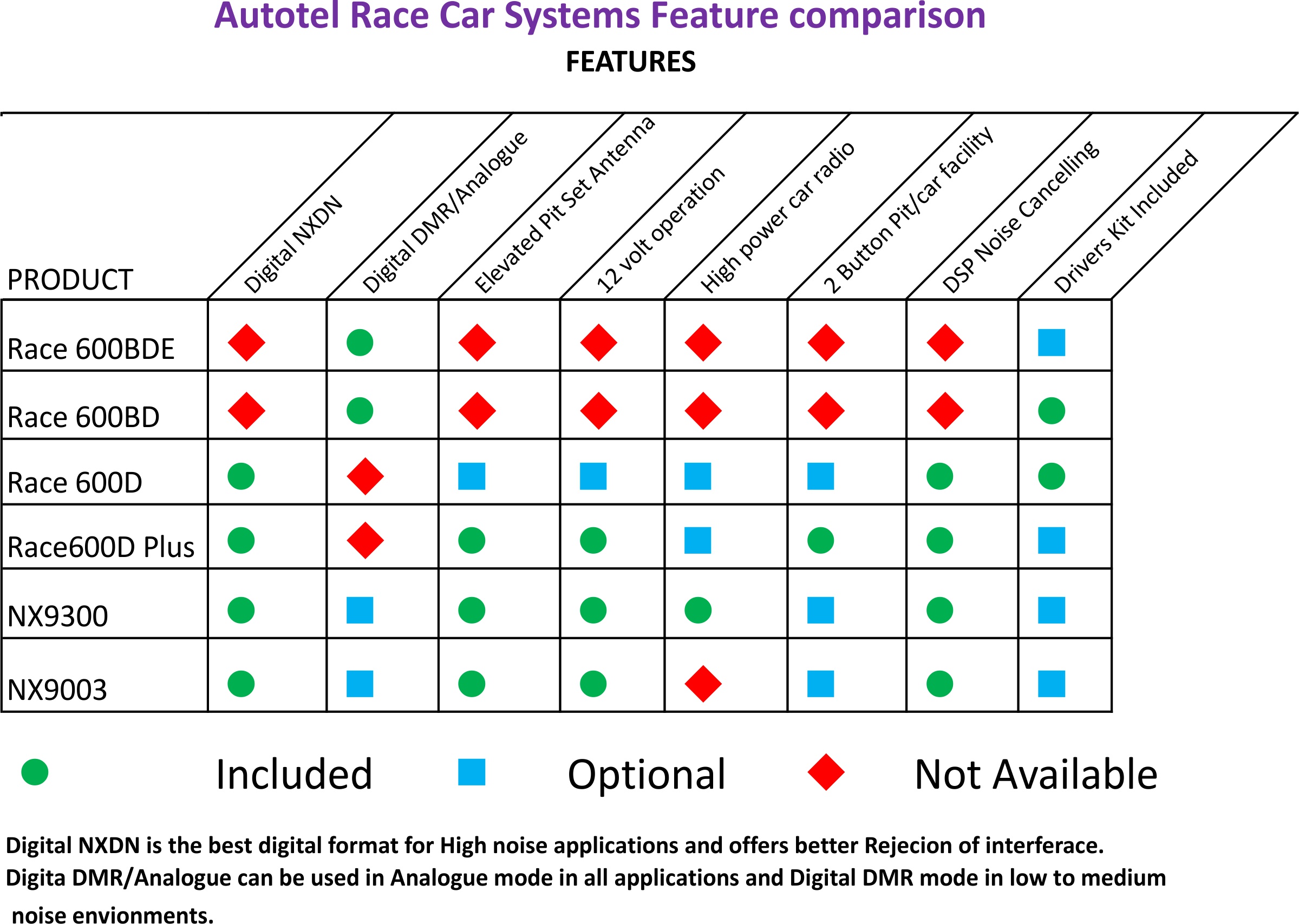 NX9300/2/10 Advanced DIGITAL RACE CAR RADIO SYSTEM Complete team System
CALL FOR OUR LATEST DEALS AND RENTAL OPTIONS
Complete Digital System for 2 x cars, 2 x race engineers, 1 dual radio manager set, 4 x full pit crew with headsets and 2 pit crew with earpieces/microphones.
This complete package will fit out your race team with a turnkey digital solution. It includes 2 engineer 2 button pit sets 1 x manager pit set with dual radios and 4 crew sets plus 2 x GT/Saloon/Sportscar radio system for your cars. It is supplied with bank charging and a custom made flight cases making a neat and ready to use package. The range on a digital system using the elevated race engineer headset is adequate for many applications but, a repeater option can be added to ensure full track coverage on larger tracks.
FEATURES
3 Car radio options

NX9300 GT saloon car High power radio, 12 volt
NX9003 Lightweight Battery Powered for Single seater
NX9003+ Lightweight 12 Volt Powered Radio for all Race applications


DSP4 Noise cancelling Fitted as standard
Elevated Range extending Antenna on Engineer Pit set
High quality Helmet Kit and Generic Drivers earpieces Included
A repeater option can be added to ensure full track coverage on larger tracks if required.

Car System

The new Autotel NX9000DSP series offers advanced digital communications systems for all types of racecars. 12 volt powered radio options make it ideal for endurance racing. The special car radio packs and looms are fitted with our adaptive DSP4 digital noise cancelling to give the best possible communications in all applications. The system is compatible with our new DSP4 Microphone technology intended for very high noise applications, as well as being backwardly compatible with most conventional Dynamic microphones supplied by Autotel, MRTC, Stilo, Bell and Sparco.
The system is complete and will give better range than the equivalent analogue system in a race car situation. Improvements of 30% increase in range have been found in some applications over conventional analogue. Our RR4000S Digital repeater can be added to guarantee full track coverage on virtually any track**
The System is based around the latest Kenwood NX3000 series radio units that have improved noise capabilities and better resistance to water. The handsets having IP67 capabilities.

NX9000 DSP Key Benefits

Car and Pit calls can be monitored without scanning... No more lost first words from slow scanning

Secure, digital conversations... No more eavesdropping

Clear, crisp, digital conversation... Consistent voice quality and volume

Inherent digital noise cancelling enhanced with our DSP4 adaptive noise cancelling... Ideal for high noise applications

High Level of immunity to interference... Digital radio is far less likely to be affected by pit lane interference
Improved range... Narrow band digital radio NXDN gives a better usable range than analogue systems and is also more immune to high vehicle electrical interference that often reduces range.
System Components
2 x NX9300 or NX9003+ digital car system including DSP3.5 noise cancelling and all car installation parts
2 x NX911ES Race engineer pit set with 2 button pit car facility and rapid charger (including elevated pit set antenna)
1 x NX931S Manager dual radio headset with 4 buttons on headset
4 x NX911 Pit crew sets with race headsets
2 x NX901 Pit crew sets with ear pieces/microphone including Noise cancelling mic and custom fit upgrade option
9 x Crew belts
2 x 6 bank fast charger
2 x Custom made flight case
OPTIONS
NX4000S repeater with RR96 antenna and cable, full range of pit sets to expand the system.
** Range will depend on terrain and antenna height.
NX9000/2/10 2 CAR DIGITAL RACE TEAM RADIO SYSTEM
Brands Kenwood
Product Code: NX9000/2/10
Availability: In Stock
Price in reward points: 400