Motorsports communications FAQ
The best type of radio for Motorsport is Digital Radio, using the FDMA method of transmission. Kenwood and Icom both use this system in their NXDN products. FDMA is a narrow band digital system that gives better rang and clarity ,due to its capability to reject electrical noise from racing cars.
DSP noise cancelling is an electronic filter that recognises mechanical and repetitive noise like engine gearbox and even wind noise. the filter cancels this out but as human voice is a continuously varying pitch, the filter does not affect the voice. DSP is essential with Digital Motorsport systems as any amount of noise transmitted with the voice becomes mixed with it and cannot be recovered when the message is received. This will result in a garbled unusable message.
Pit to car systems using Digital NXDN technology give the best all round results when used in Motorspots. Kenwood and Icom radio units use NXDN but must also use DSP noise cancelling to ensure the system can cope with the high noise from racing cars.
Autotel NX9000
and
Race 600D
fit most applications and budgets.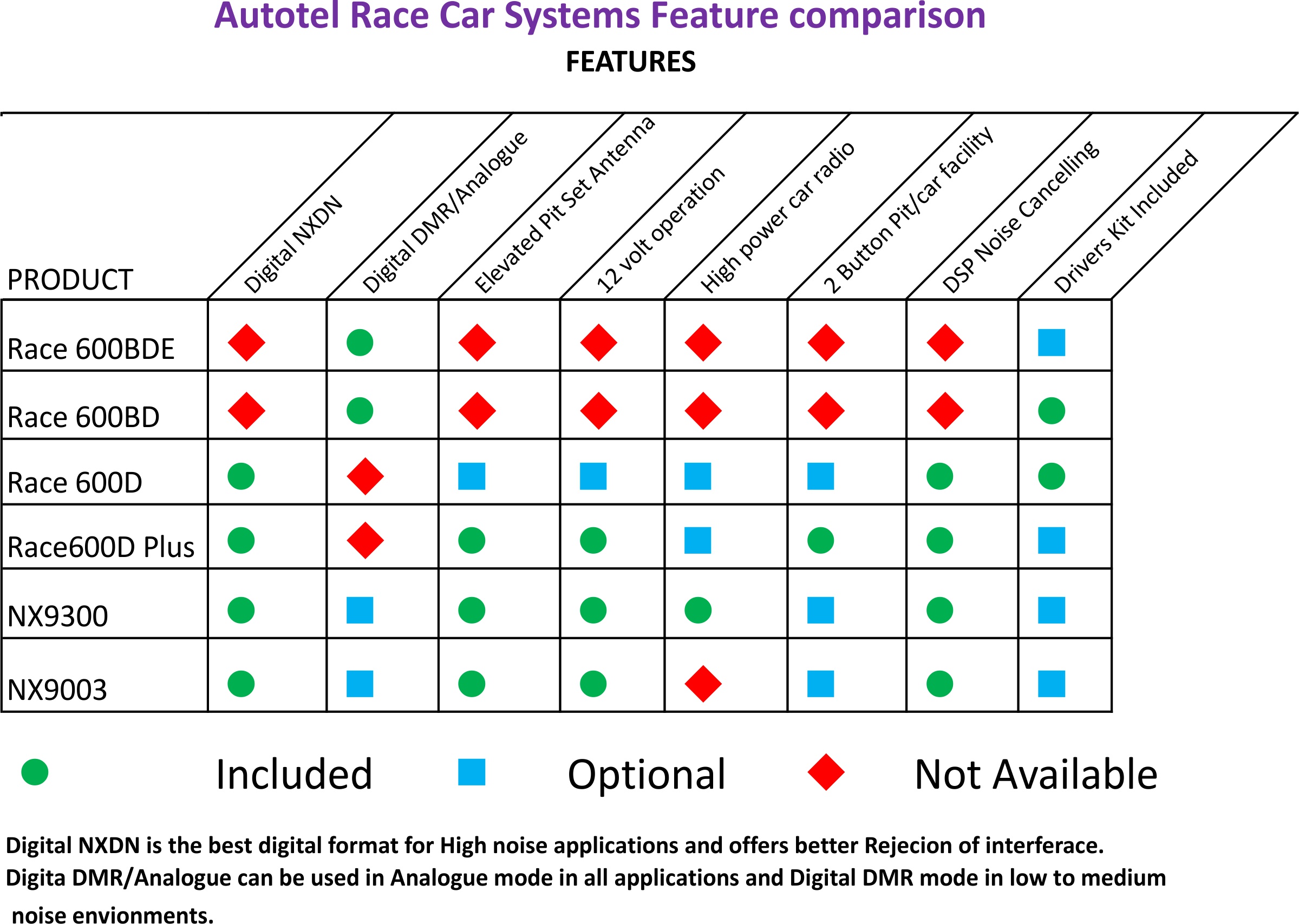 RACE 600D SYSTEM
NOW WITH 12V POWERED CAR RADIO OPTION
The Race 600D System offers a full noise cancelling Digital race radio system at an affordable price. What makes the Race 600D stand out is the included Digital DSP3 noise cancelling integrated into the car loom. This is essential for correct operation in the Motorsport environment.
The system is available on VHF or UHF channels or, we can supply it on licence exempt channels for use in most European countries.*
The package is supplied with all you will need for 1 x Pit crew, 1 x Car system and 1 x Driver(driver kit optional). This can be expanded with extra pit sets or drivers, as needed.
All the key components are top grade and are similar to those used in our higher tier systems, making this system suitable for many race car applications.
NEW 12 Volt Car upgrade
Our new 12 Volt car upgrade option now makes this system suitable for endurance applications. The upgrade consists of a custom rear casing for the car radio with integrated power filter and regulator (factory fit is recommended). See NX6200 system

RANGE
Range of this system is dependent on the type of car it is installed in and the terrain at the particular circuit. Generally, Digital radio gives improved range over the comparable analogue system by as much as 25% in a race car environment. Range will still vary depending on the type of car and to guarantee full track coverage you should consider one of our more advance expandable systems as an option.
IMPORTANT INFORMATION REGARDING HELMET MICROPHONE AND EARPIECES
This system is designed to work without helmet systems. It is possible to use alternative compatible microphones and earpieces but, we cannot guarantee performance with alternative products. For advice on using alternative parts please contact our sales office.
BASE SYSTEM COMPONENTS

1 x Car radio unit Battery powered
1 x Car AV shock mount
1 x Car wiring loom With DSP3 Noise cancelling
1 x Steering wheel talk switch with connector
1 x Car antenna and loom
1 x Drivers helmet kit (optional)
1 x Foam in ear drivers ear pieces (optional)
1 x Professional pit headset
1 x Pit radio
2 x Chargers
1 x Storage Case

Operating Frequency: 138-174 MHz or 400-470 MHz or UHF licence exempt channels
Power Output: up to 5 Watts car & pit .* 0.5 watt licence free channels.
Car unit weight: 260 grams
Power supply: 2230mA Li Ion Batteries
Licence: Dependent on country of supply
Battery Life: 16 hrs average 90/5/5
Race 600D Digital Race Car System With DSP Noise cancelling
Brands Autotel
Product Code: Race 600D
Download Description:
Availability: In Stock
Price excludes VAT