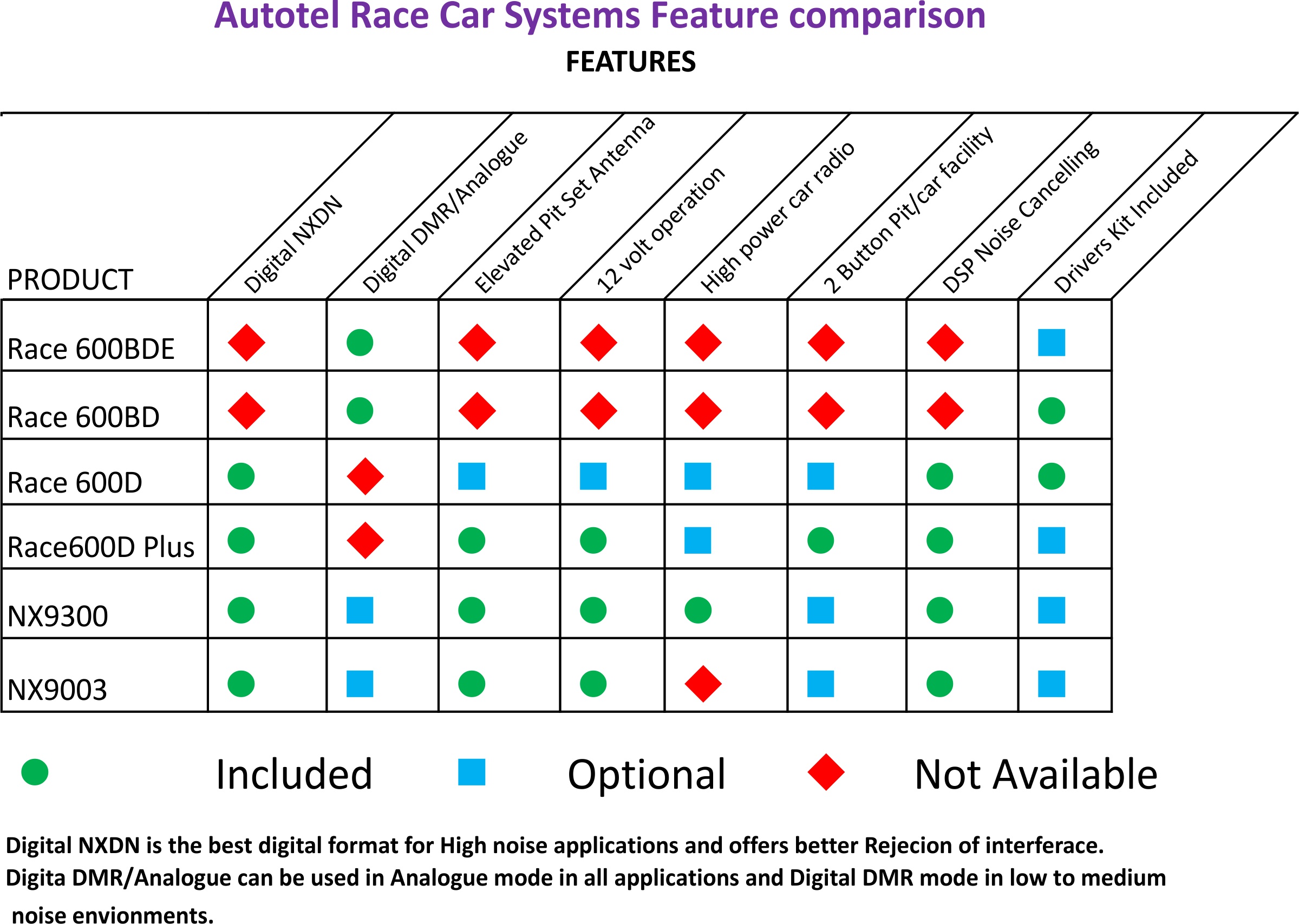 NEW RACE 600BDE SYSTEM
DIGITAL/ANALOGUE
The new Race 600BDE System offers exceptional value for a an entry level race radio system operating in Digital or Analogue modes. The system is available on VHF or UHF channels or, we can supply it on license exempt channels for use in most European countries.
The package is supplied with all you will need for 1 x Pit crew, 1 x Car system and (optional) 1 x Driver. This can be expanded with extra pit sets or drivers, as needed.
All components are top grade and are similar to those used in our higher tier systems, making this system suitable for many race car applications.
For applications where very high noise is a problem or, if you require greater range, then we recommend our higher tier systems. The Race 600BDE can be used in Analogue mode in all application and Digital mode where in car noise levels are not excessive, For higher noise applications in Digital we recommend our Race 600D system or NX9000 system that both have advance adaptive noise cancelling system fitted.

RANGE
The range of this system is dependent on the type of car it is installed in and the terrain at the particular circuit. Generally, cars closer to saloon production cars would give good coverage on a track. As the cars become more advanced with composite construction and high levels of tuning with more advanced ignition systems, the range would be reduced from pit to car. For these applications we recommend our more advanced systems.

SYSTEM COMPONENTS

1 x Car radio unit Digital/Analogue
1 x AV shock mount
1 x Car wiring loom
1 x Steering wheel Velcro talk switch with connector (optional Thread fit PTT)
1 x Car antenna and loom
1 x Drivers helmet kit (optional)
1 x Foam in ear drivers ear pieces (optional)
1 x Professional pit headset
1 x Pit radio Digital/ Analogue
2 x Chargers
1 x Alloy storage case (Optional)

Operating Frequency: 138-174 MHz or 400-470 MHz or UHF license exempt channels
Power Output: up to 5 Watts car & pit VHF and 4 Watts car and pit UHF
Car unit weight: 195 grams
Power supply: 1500mA Li Ion Batteries
License: Dependent on country of supply
Battery Life: 10hrs average Analogue 15 hours Digital
Race 600BDE Race Car Radio System
Brands Autotel
Product Code: Race 600BDE
Availability: In Stock
Price Excludes Vat